Vaudeville Wars:
How the Keith-Albee and Orpheum Circuits
Controlled the Big-Time and Its Performers
Arthur Frank Wertheim
Palgrave Macmillan /ISBN 1403968268 (2009)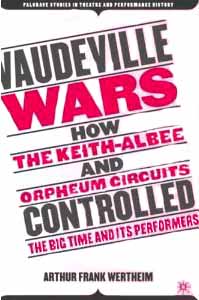 Here's an exciting story about two show business giants
(Keith-Albee on the East Coast, Orpheum on the West Coast)
banding together to control all performing arts in America.
Impossible, you think? But for awhile it was nearly true.
Nothing was too low to achieve their goals, and any right the
performers might have were never considered, nor were those of
the individual theatre owner. From 1890 to the 1920s the names
of B. F. Keith, Edward Albee, Joseph P. Kennedy, Morris Meyerfeld
and Martin Beck with both the highs (gorgeous theatres, low-cost
exciting entertainment) and lows (cutthroat methods to suppress
dissent, blacklisting) of show business.
---
dimensions: 7.4 x 0.9 x 9.7 in.s / weight: 1.1 lb.s / volume: 360 pages
---
---