Erlanger Theatre / Philadelphia
After the original Forrest Theatre was demolished in 1927 on South Broad Street, the two theater operators went their separate ways.
The Shubert organization built a new Forrest Theatre on Walnut Street. Abraham Lincoln Erlanger built his own theater, the Erlanger Theatre
on the northwest corner of 21st Street and Market Street. Prior to the decision of the Shuberts to build separately,
this theater was going to be called the New Forrest.
The Erlanger Theatre was Philadelphia's most elaborate legit theater ever and one of the most magnificent ever built in the United States.
The exterior was Georgian. The elegant interior was furnished in Napoleonic French and other period styles. Three lobbies, the grand stairs,
lounges, and the 1,890 seat auditorium were elaborated decorated and furnished with imported marble, gold leaf, murals, tapestries, crystal
chandeliers, crystal mirrors, antique wood-work, hand wrought ironwork, and elaborate furniture. The Spanish Lounge for smoking was especially
magnificent. Philadelphia theater architects Hoffman-Henon designed the theater.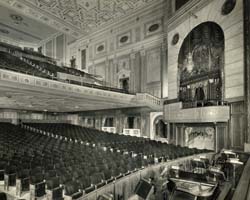 The Erlanger Theatre opened October 23, 1927 with the musical show "Criss Cross." The theater was also equipped to show movies.
RKO began a lease on September 29, 1929 to show first run movies. RKO's first "talkie", "Street Girl" had its premiere here. By 1930 RKO gave up.
In 1932, William Goldman, formerly manager of Stanley Warner's local operations, leased the theater.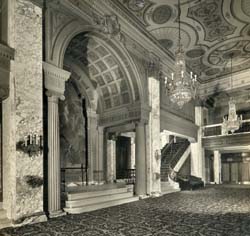 The Erlanger Theatre was famous for Broadway musical stage shows such as "Guys and Dolls" "West Side Story" "Man Of La Mancha" "My Fair Lady."
Movies were also shown. The theater ceased showing Howard Hughes' movie "The Outlaw" (1943) because of church objections. Goldman couldn't show
all the movies he wanted because Warner Brothers controlled so many other theaters and had such leverage. So, Goldman filed an antitrust lawsuit
that forced Hollywood studios to sell off their movie theaters.
Starting in 1968, the Erlanger Theatre became a restaurant, a night club, a venue for rock shows, and had great success with more legit stage shows.
Overall, the Erlanger Theatre continued in the red, and was demolished in 1978. The Philadelphia Historical Commission seemed to note its importance
in taking many photos.
After serving as a parking lot for over 30 years, the Murano residential tower was erected at 21st and Market in 2008.

Murano Tower construction / 2007


Programs available from this theatre: