Stereopticon Pictures
"Magic Lantern" / late 1800s - early 1900s
---
(from Wikipedia)
A stereopticon is a slide projector or "magic lantern", which has two lenses, usually one above the other.
These devices date back to the mid 19th century, and were a popular form of entertainment and education
before the advent of moving pictures. Americans William and Frederick Langenheim introduced stereopticon slide
technology—slide shows of projected photographs on glass—in 1850. For a fee of ten cents, people could view
realistic photographs with nature, history, and science themes. At first, the shows used random images,
but over time, lanternists began to place the slides in logical order, creating a narrative.
This "visual storytelling" directly preceded the development of the first moving pictures.
The term stereopticon has been widely misused to name a stereoscope. A stereopticon will not project or display
stereoscopic/three-dimensional images. The two lenses are used to dissolve between images when projected.
All stereopticons can be classified as magic lanterns, but not all magic lanterns are stereopticons.
---
penny-arcade version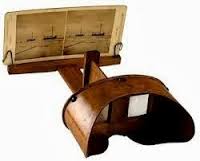 hand-held version
---
Slides: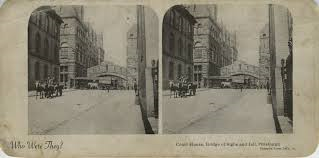 ---
Note:
The hand-held version is the kind I remember from my grandmother's home.
A child of the early television era, I was surprised her old-fashioned
double slides appeared three-dimensional when viewed through the device,
but was quickly bored when they didn't move or speak.
---