Van & Schenck
comedians / 1910-1920s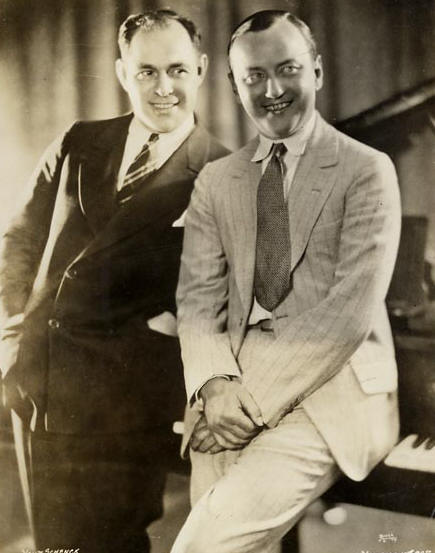 Vocalist's Showcase Vol. 6 Presenting Songs By :
GUS VAN & JOE SCHENCK
Ziegfeld Follies & Vaudeville Favorites (REC 1916-1923)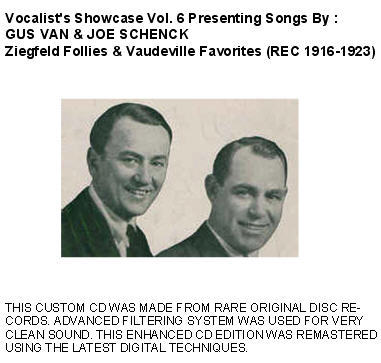 Van and Schenck were popular United States entertainers in the 1910s and 1920s.
Gus Van (born August Von Glahn, August 12, 1886 – March 12, 1968), baritone
and Joe Schenck ( born Joseph Thuma Schenck, c. 1891 – June 28, 1930), tenor.
They were vaudeville stars and made appearances in the Ziegfeld Follies of 1918, 1919, 1920 and 1921.
They made numerous phonograph records for the Emerson, Victor, and Columbia record companies.

With Schenck on piano, the duo sang and performed comedy routines.
Van was especially adept at dialect humor, and could imitate any number of regional and continental accents.
Van's hearty baritone and Schenck's high tenor harmonized well, and the team became known as "the pennant-winning battery of songland." They performed on radio shows and appeared in early talking motion pictures, including several musical shorts.
Appearing in both Vitaphone and MGM Movietone and one feature, the MGM film They Learned About Women (1930).

During the first world war, they recorded humorous songs such as "I Don't Want to Get Well"
which told the tale of a wounded soldier who did not want to recover, as he was comfortable in hospital and in love with a nurse.

After Schenck's death, Van continued to perform as a solo artist on stage, screen, and radio. He appeared in many New York-produced Soundies in 1941.
---
Keith's Theatre / Indianapolis / Vaudeville Program / 1913

---
---